TOD WORKSHOP & DESIGN CHARETTE IN QINGYANG (GANSU)
From June 9 to June 13, 2014, the Urban Morphology Institute participated to a TOD workshop and design charrette organized by the World Bank in Qingyang (Gansu). This workshop has constituted a great opportunity to implement on demo projects the findings and policy recommendations of The Institute for World Bank and DRC State Council China Urbanization Study, and to develop a new series of 8 key urban design principles to complement the 8 key planning principles.
Qingyang Workshop was a joint venture of experts in urban design, transport and land use planning through intensive discourse with local agencies of respective sectors. The construction of high-speed rail offers Qingyang good opportunities to develop a harmonious, special, accessible, attractive and green city with a high quality of life and a strong and balanced economy. The station area can become an attractive, green, walkable, new part of the city – with an optimal mixed-use development (office, retail, housing, facilities, services).
The Institute has developed a creative and innovative approach of urban design in China through a 1.5 km² station neighborhood in Qingyang developed by Serge Salat and Françoise Labbé, architects, with the creation and scaling of a great variety of public spaces in the urban fabric.
Small block strategy
The small block strategy rests upon the diversification of block sizes, streets, public space and green spaces.
Blocks are less than 100m side in average

Blocks are developped along their perimeter, which at the same time increases the length of façade on the street (more intense interactions, more street business potential, more vibrant streets), and allows for high quality semi-public inner spaces (courtyards and gardens)
Key figures:
A well-connected and accessible neighborhood

Linear density of streets multiplied by 3.5: from 7 km of streets/km² to 24 km of streets/km2

Density of intersections multiplied by 10: from 18/km² to 180/km² A pedestrian attractive neighborhood

20 km of connected alleys and pedestrian lanes lined with shops, civic spaces and pocket gardens.

A green neighborhood

20 m2 of green spaces/inhabitant

40 % of the neighborhood is green space

A high density of population and jobs fostering service economy

22,400 residents

16,500 jobs in the service economy

Population density of 200 p/ha

Job density: 150 jobs/ha

A low-rise – high-density neighborhood making an efficient use of the land

FAR at block scale: 2.2 (equivalent to 3.4 at parcel scale)

Average number of floors: 5.5

A mixed-use neighborhood


4000 jobs in shops

2000 jobs in education and health sector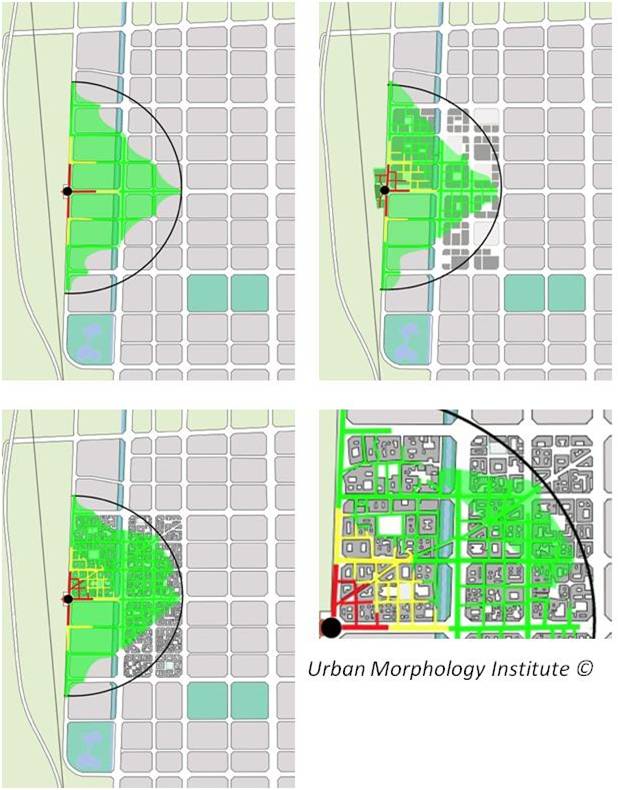 Accessibility increase

The small block strategy increases accessibility around the station. The 4 captions display accessibility around the station with three different urban configurations. 250m accessibility is displayed in red, 500m accessibility in yellow, and 1km accessibility in green (walking distance limit). The black circle displays the theoretical maximum accessibility (1km radius).
With the small block strategy, the diagonal street breaks the symetry of the grid and increases walking accessibility. In the two first urban configurations, 65% of the neighborhood within the 1km radius circle is accessible. With the small block strategy, 82% of the neighborhood within the 1km radius circle is accessible (26% increase in accessibility)
Lower infrastructure costs and higher real estate benefits
Fine grain urban development offers higher return on investment rates by generating more, longer term and sustainable value with lower investment costs per capita.
Decrease in infrastructure costs per capita (-33% for the street network, -23% for the water network and -53% for the waste water network) benefits to municipal finances

Increase in overall street length (multiplied by 4.7) allows better diffusion and higher fluidity of traffic, and contributes to the diminution of both congestion and pollution

Increase in street business potential (multiplied by 3.5) and land value (multiplied by 2.7) steers economic success

Increase in accessibility and walkability increases urban sustainability and social inclusiveness